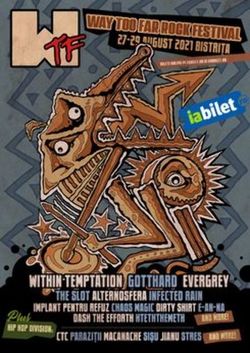 Str. Aerodromului,
Bistrita
27 August 2021
-
29 August 2021
//
99-250 LEI
Trupe confirmate: Within Temptation, Gotthard, Evergrey, The Slot, Alternosfera, Dirty Shirt, Infected Rain, Chaos Magic, Implant pentru Refuz, Dash The Effort, Hthethemeth si E-an-na.
Way Too Far Rock Festival, pe scurt, WTF a inceput cu o serie de evenimente –manifest, initiate de catre echipa unei publicatii locale (Observator de Bistrita-Nasaud) ca o alternativa la o societate excesiv consumerista. WTF este conceptul care descurajeaza mediocritatea, lipsa valorilor artistice si culturale, promovand tipologia umana care este marcata de libertate si creativitate. WTF a inceput cu o serie de concerte rock indoor care au adus pe scena din Bistrita, pentru prima data, trupe de mainstream: Phoenix, The Mono Jacks, Vita de Vie, etc. , dar si trupe din underground-ul autohton.
In urma acestui istoric, in vara anului 2017, a avut loc, pentru prima data, un festival rock de amploare in Bistrita-Nasaud, in parcarea complexului Wonderland.
Zdob si Zdub, 7 Pasi, Luna Amara, Travka, Byron si Urma au adunat mii de oameni la prima editie a festivalului care a pus in valoare si locatia generoasa din preajma partiei de schi, oferind obiectivului un aspect pozitiv. Festivalul si-a creat rapid o identitate, pe plan national, recrutand un public elevat din zona oamenilor activi, care, pe langa latura de entertainment, urmaresc, apreciaza si inteleg mesajul muzical si artistic al trupelor.
De asemenea, festivalul a fost intens mediatizat in toate publicatiile de timp liber din Romania si a fost inclus pe lista festivalurilor recomandate.
In 2018, editia a doua a Way Too Far Rock Festival a fost o editie- document. Intr-un moment in care aproape toata societatea din Romania a inceput sa isi puna intrebari despre sistem, WTF Rock Festival a adus in fata publicului o mare parte dintre cele mai bune trupe din Romania care au transmis profunde mesaje sociale: Grimus, Altar, Celelalte Cuvinte, Coma, The Mono Jacks, Robin and the Backstabbers, Taxi, Days of Confusion, Byron, Omul cu Sobolani, Vita de Vie. Editia din 2019 a luat amploare avand pe scena, intr-un maraton muzical de trei zile, aproape toate trupele rock importante din Romania, dar si trupa americana Crazy Town.
WTF Rock Festival este un eveniment care "mixeaza" diverse generatii si stiluri rock, de la rock alternativ la heavy metal, indie, symphnonic rock, funk etc.
WITHIN TEMPTATION - "Treziti-va si duceti-va sa va protejati libertatea!"
WITHIN TEMPTATION este o trupa olandeza de metal/rock simfonic, fondata in aprilie 1996 de catre vocalistul Sharon den Adel si chitaristul Robert Westerholt. Trupa a fost clasificata de critici drept metal gotic, metal simfonic, desi influentele rock si "industrial" isi gasesc locul pe ultimul si al 7-lea album de studio - Resist. Odata cu albumul Resist, trupa se desparte de trecut si experimenteaza un stil distinct, care se inspira din societatea noastra actuala si viitoare - atat din punct de vedere muzical, cat si personal. RESIST este un album care contine zece piese imnice, intunecate, dar si colaborari ireprosabile cu artisti celebri, cum ar fi Jacoby Shaddix (Papa Roach) si Anders Fidén (In Flames). Albumul reprezinta o adevarata etapa cu un mesaj foarte important: "Treziti-va si duceti-va sa va protejati libertatea!"
GOTTHARD este cea mai de succes trupa elvetiana, dar este, de asemenea, o trupa de referinta in lumina reflectoarelor globale. Au pornit, in urma cu un sfert de secol, din cantonul elvetian Tessin pentru a cuceri lumea pur si simplu prin rock si balade monumentale.
Hard-rockerii de la Lugano au cantat in mai mult de 2000 de concerte pe trei continente, fiind girati de Deep Purple, Bryan Adams, Bon Jovi si AC / DC, au efectuat turnee celebre ca headlineri in toata Europa si au vandut, pana in prezent, peste trei milioane de albume. De 25 de ani, GOTTHARD are un loc obisnuit in topuri si reprezinta cel mai bine rockul elvetian!
EVERGREY este o trupa de progressive metal din Gothenburg, Suedia. Trupa a fost infiintata in 1995 si a lansat albumul de debut, The Dark Discovery, in 1998. Versurile trupei Evergrey au abordat intotdeauna o zona mai intunecata, mai putin confortabila, tratand subiecte cum ar fi introspectia, paraonia, fiintele extraterestre, abuzul copiilor, cultele si religia, moartea si doliul, pana la frica generala si intristarea. De-a lungul timpului, a ramas o trupa de reper in zona rockului progresiv, atat in ceea ce priveste muzica, cat si temele abordate.
Evergrey se numara printre formatiile de top din Suedia, ajungand sa urce pe scenele unor festivaluri mari din Europa precum Download, Masters of Rock, Sziget sau Wacken, dar si in Statele Unite unde au fost headlinerii festivalului Prog Power VII din Atlanta. De-a lungul timpului, Evergrey a colaborat cu muzicieni din In Flames, Sabaton, HammerFall, Nightswish (Floor Jansen) sau Stratovarius si au avut turnee alaturi de Nevermore, In Flames sau Avatar.
ALTERNOSFERA, trupa infiintata in 1998, este, in momentul de fata cea mai iubita trupa rock care canta in limba romana. Concertele lor inregistreaza un succes enorm in Romania. Toate evenimentele lor sunt asteptate cu mult interes si artistii reusesc sa inchida casele de bilete cu mult inainte de datele concertelor. De asemenea, piesele lor sunt apreciate si difuzate frecvent pe radio-urile din Romania.
THE SLOT este o trupa din Rusia, infiintata in 2002, fiind una dintre trupe neconventionale din zona, care au introdus un sound occidental in Rusia. The Slot a primit numeroase premii in industria muzicala (Hit of the Year in both 2006 (2 Wars) and 2007 (They Killed Kenny), Vocal Performance of the Year in 2005, and NewsMusic.ru's 2007 Rock Album of the Year Award). A concertat alaturi de Limp Bizkit si KORN, fiind apreciati ca un "hibrid intre "Linkin Park si Evanescence"
INFECTED RAIN este o trupe de metal din Republica Moldova, fiind o mixtura energica dintre cele mai bune stiluri de metal modern. Vocea puternica, feminina, in combinatie cu partea instrumentala inconfundabila dau unicitate si autenticitate trupei Infected Rain. Ttrupa s-a infiintat in 2008 si au aparut pentru prima data pe scena intr-un concert dedicat trupei Slayer.
DIRTY SHIRT este una dintre cele mai active si mai originale trupe rock din Romania. Trupa este rezultatul unic a unei combinatii de rock/metal si variate elemente musicale: folclor romanesc, funk, etno, electro etc.
DASH THE EFFORT este o trupa care s-a format in 2011 si este una dintre trupele care s-au facut remarcate, in ultimii ani, in Bulgaria. A fost prima trupa din Bulgaria care a cantat la Wacken Open Air, alaturi de trupe ca Suicide Silence, Breakdown of Sanity s.a.
A mai cantat pe aceeasi scena cu Stone Sour, Blind Guardian, Jinjer, Infected Rain si Unearth. Albumul lor, "Decandence", a fost lansat recent si, cu aceasta ocazie, trupa a facut un turneu in Bulgaria, Romania si Grecia.
CHAOS MAGIC este centrat in jurul vocalistei chiliene, Caterina Nix, care, pentru aceasta lansare a trupei, a lucrat in stransa colaborare cu colegul producator, cantaret si muzician chilian Nasson. Impreuna, au creat o bijuterie absoluta de album metal, a carui splendoare se reflecta complet in primul single si videoclip al albumului, "Like Never Before".
Calatoria IMPLANT PENTRU REFUZ a inceput in anul 1995. Trupa crescut de-a lungul celor peste 23 de ani de existenta printr-un sunet mereu proaspat si versuri atent conectate la realitate. Cu o muzica pe deopotriva sensiblia si plina de energie, Implant Pentru Refuz scrie o poveste complexa in cultura muzicii contemporane.
Trupa HTETHTHEMETH din Brasov este considerata una dintre cele mai enigmatice aparitii pe scena rock & metal. Cu un stil unic si fara o limita de exprimare, muzica "neumana" practicata de trupa trece fara timiditate de la metal cu elemente ambient si influente de black pana la blues si bossa nova. Trupa a fost prezenta la majoritatea festivalurilor de rock / metal din Romania, inclusiv FESTIVALUL ARTMANIA, ROCKSTADT EXTREME FEST si MAXIMUM ROCK FESTIVAL.
E-AN-NA combina folk-metal-ul classic cu elemnete traditionale romanesti si secvente de metal modern. Primele lor single-uri au captat rapid atentia si concertele lor sunt caracterizate de energie si creativitate. Prin muzica sa, trupa creeaza o lume metaficia, unde cei care intra sunt indenati sa isi urmeze calea fara sa fie distrasi de lucruri insignifiante.
Biletele sunt disponibile in reteaua iaBilet si in format electronic pe www.iabilet.ro, in magazinele Flanco, Metrou Unirii 1, Muzica, IQ BOX, Uman si pe terminalele Selfpay. Online, puteti plati cu cardul, Paypal,carduri de tichete culturale Sodexo, pe factura la Vodafone sau Orange sau ramburs prin Fan Courier oriunde in tara.