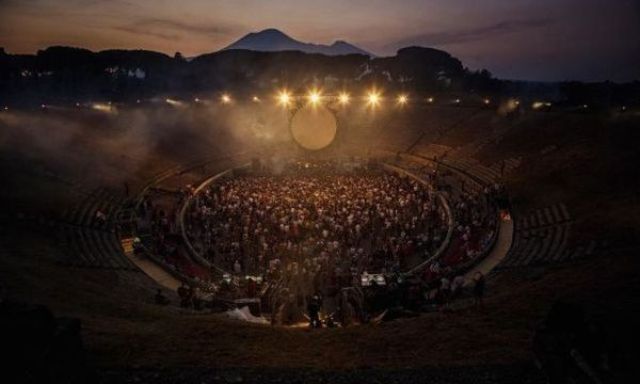 David Gilmour a lansat un clip live pentru piesa "Rattle That Lock" extrasa de pe concertul-documentar "Live At Pompeii 2016". Clipul poate fi urmarit mai jos.
David Gilmour pregateste lansarea DVD-ul "Live at Pompeii 2016" pe 29 septembrie, material filmat in cadrul a doua concerte sustinute pe 7 si 8 iulie 2016 in spectaculosul amfiteatru din Pompei (Napoli), loc in care a mai concertat alaturi de Pink Floyd in 1971. In Bucuresti, concertul va putea fi vizionat pe 13 si 16 septembrie la Happy Cinema. Biletele sunt disponibile pe www.iabilet.ro, aici si aici.
"45 years after Pink Floyd's David Gilmour filmed 'Live At Pompeii' in the legendary Roman Amphitheatre there, he returned for two spectacular shows that took place on 7 & 8 July 2016, part of his year-long tour in support of his No.1 album 'Rattle That Lock'. The performances were the first-ever rock concerts for an audience in the stone Roman amphitheatre, and, for two nights only, the 2,600 strong crowd stood exactly where gladiators would have fought in the first century AD.
'David Gilmour Live At Pompeii' is an audio experience on its own, while the audio-visual spectacle features lasers, pyrotechnics and a huge circular screen on which specially-created films complement selected songs. Paramount, however, is the incredible music: the show includes songs from throughout David's career, as well as many Pink Floyd classics, including 'One Of These Days', the only song that was also performed at the band's 1971 show.
Both concerts also saw very special performances of 'The Great Gig In The Sky' from 'The Dark Side Of The Moon' which David rarely plays as a solo artist. The 2-disc concert CD was produced by David Gilmour, and mixed by Andy Jackson and David Gilmour. The 148-minute concert film includes highlights from both shows, filmed in 4k by director Gavin Elder. DVD and Blu-ray versions contain an extra 7-minute documentary by Gavin Elder 'Pompeii Then And Now', while the Deluxe Blu-ray 4-disc box contains the 2xCD version, the 1xBlu-ray version, and a full 207 minutes of extra footage: 11 live performances and 5 documentaries, plus bonus collectables. Vinyl lovers can enjoy a deluxe 4xLP version in gatefold sleeves and a hardback slipcase, plus a 24-page photo booklet.
'David Gilmour Live At Pompeii' shows an artist at the top of his artistic game, performing incredible material with his world-class band, in a unique setting on one very special occasion."

Publicat pe 04 August 2017 , de BestMusic.ro
Adauga un comentariu