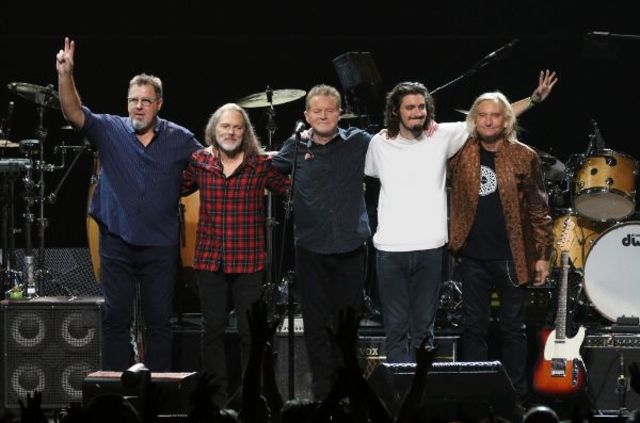 Noul material va contine 33 de melodii si va fi disponibil pe programul de televiziune ESPN.
Melodiile sunt extrase din cele trei concerte sustinute in 2018 in Los Angeles si marcheaza debutul noilor menbri Deacon Frey si Vince Gill.
"Music and sports fans have been shut out from live events for more than three months. The premiere of Live From the Forum MMXVIII, this July 4th weekend on ESPN, is the Eagles' gift to their fans. We are honored to be part of ESPN's Sunday night programming, the home of such acclaimed shows as 30 for 30 and The Last Dance.", a declarat managerul trupei, Irving Azoff.
Filmul va fi disponibil duminica si contine urmatoarele melodii:
1. "Seven Bridges Road"
2. "How ya doin?"
3. "Take It Easy"
4. "One of These Nights"
5. "Good evening, ladies and gentlemen"
6. "Take It to the Limit"
7. "Tequila Sunrise"
8. "In the City"
9. "Hey, everybody, that's Joe Walsh"
10. "I Can't Tell You Why"
11. "New Kid in Town"
12. "Just want to thank all of you…"
13. "How Long"
14. "Hello, everybody…"
15. "Peaceful Easy Feeling"
16. "Ol' 55"
17. "Lyin' Eyes"
18. "Love Will Keep Us Alive"
19. "How about a nice hand for California, man..."
20. "Don't Let Our Love Start Slippin' Away"
21. "Those Shoes"
22. "Already Gone"
23. "Walk Away"
24. "Is everybody OK?"
25. "Life's Been Good"
26. "The Boys of Summer"
27. "Heartache Tonight"
28. "Funk #49"
29. "Life in the Fast Lane"
30. "Hotel California"
31. "Rocky Mountain Way"
32. "Desperado"
33. "The Long Run"
Publicat pe 02 Iulie 2020 , de BestMusic.ro
Adauga un comentariu