Erykah Badu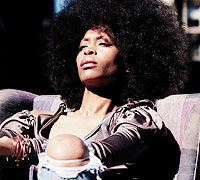 Gen muzical:
Soul/R&B
Biografie Erykah Badu
She grew up listening to '70s soul and '80s hip-hop, but Erykah Badu drew more comparisons to Billie Holiday upon her breakout in 1997, after the release of her first album, Baduizm. The grooves and production on the album are bass-heavy R&B, but Badu's langurous, occasionally tortured vocals and delicate phrasing immediately removed her from the legion of cookie-cutter female R&B singers. A singer/songwriter responsible for all but one of the songs on Baduizm, she found a number 12...
toata biografia Erykah Badu
Muzica Erykah Badu
Acest site foloseste cookies.
Prin navigarea pe acest site, va exprimati acordul asupra folosirii cookie-urilor.
Termeni si conditii | Platforma pentru solutionarea online a litigiilor | Bilete
Bilete Concert Depeche Mode la Bucuresti Bilete Concert Guns N' Roses la Bucuresti pe Arena Nationala © copyright 2001 - 2022 BestMusic.ro