Eva Boto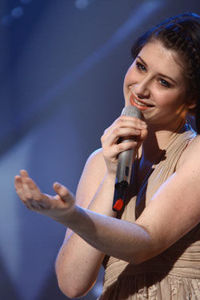 Data nasterii:
01.12.1995
Gen muzical:
Pop
Tara:
Slovenia
Poze Eva Boto



vezi toate pozele
Biografie Eva Boto
Eva Boto was born on December 1st, 1995. She lives in the small town of Šentjan pri Dravogradu which lies in the North Eastern part of Slovenia, 120 kilometres from the capital Ljubljana. She is now a second-year student attending the Ravne na Koroš kem High School, but she is already thinking about continuing her studies in Graz, Austria, or London where she would like to study soloist singing. She has been singing since a very early age and practices daily in her...
toata biografia Eva Boto
Muzica Eva Boto
Acest site foloseste cookies.
Prin navigarea pe acest site, va exprimati acordul asupra folosirii cookie-urilor.
Termeni si conditii | Platforma pentru solutionarea online a litigiilor | Bilete
Bilete Concert Depeche Mode la Bucuresti Bilete Concert Guns N' Roses la Bucuresti pe Arena Nationala © copyright 2001 - 2022 BestMusic.ro