Fiona Apple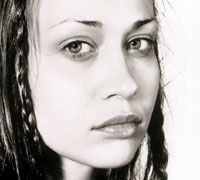 Gen muzical:
Pop
Biografie Fiona Apple
Singer/songwriter Fiona Apple gained a recording contract in 1995 as one in a crop of mid-'90s female artists, but her confessional writing and throaty vocals made the teenager sound like much more than just the latest flavor. Born in 1977 in New York to singer Diana McAfee and actor Brandon Maggart, Fiona Apple began playing the piano at the age of eight and started composing her own songs just four years later, after the separation of her parents and her own brutal rape. After leaving high...
toata biografia Fiona Apple
Muzica Fiona Apple
Acest site foloseste cookies.
Prin navigarea pe acest site, va exprimati acordul asupra folosirii cookie-urilor.
Termeni si conditii | Platforma pentru solutionarea online a litigiilor | Bilete
Bilete Concert Depeche Mode la Bucuresti © copyright 2001 - 2022 BestMusic.ro