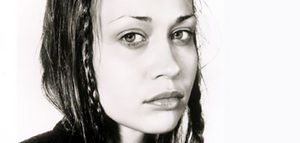 Singer/songwriter Fiona Apple gained a recording contract in 1995 as one in a crop of mid-'90s female artists, but her confessional writing and throaty vocals made the teenager sound like much more than just the latest flavor. Born in 1977 in New York to singer Diana McAfee and actor Brandon Maggart, Fiona Apple began playing the piano at the age of eight and started composing her own songs just four years later, after the separation of her parents and her own brutal rape. After leaving high school at the age of 16, she journeyed to Los Angeles to see her father and make a demo tape of her songs. After several months of tape-passing, Sony Music signed Apple in 1995.
After recording Tidal with producer Andrew Slater, she released the album in mid-1996 and began touring. Constant video play of the single "Shadowboxer" on both MTV and VH1 brought Tidal into the upper reaches of the album charts. The long-awaited When the Pawn Hits the Conflicts He Thinks Like a King What He Knows Throws the Blows When He Goes to the Fight and He'll Win the Whole Thing 'Fore He Enters the Ring There's No Body to Batter When Your Mind Is Your Might So When You Go Solo, You Hold Your Own Hand and Remember That Depth Is the Greatest of Heights and if You Know Where You Stand, Then You Know Where to Land and if You Fall It Won't Matter, 'Cuz You'll Know That You're Right -- the album's full title -- followed in 1999. ~ John Bush, All Music Guide
Acest site foloseste cookies.
Prin navigarea pe acest site, va exprimati acordul asupra folosirii cookie-urilor.
Termeni si conditii | Platforma pentru solutionarea online a litigiilor | Bilete | Bilete Concert Maluma la Romexpo
© copyright 2001 - 2021 BestMusic.ro