HIM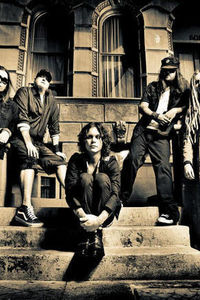 Gen muzical:
Gothic
,
Rock
Poze HIM



vezi toate pozele
Biografie HIM
Format in Finlanda, la mijlocul anului 1995, grupul H.I.M. (His Infernal Majesty) marcheaza incercarea de reinventare a rockului gotic. Principala ambitie a grupului a fost de a merge pe urmele unor trupe ca Sisters of Mercy sau The Mission (Marea Britanie), motiv pentru care au adoptat un stil caracterizat de furie si iubire mistica pentru a-si marca melodiile. Fondatorul trupei este Ville Hermani Vallo (vocalist si compozitor), caruia i s-au alaturat Mige Amour (bas), Lily Lazer (chitara),...
toata biografia HIM
Muzica HIM
Acest site foloseste cookies.
Prin navigarea pe acest site, va exprimati acordul asupra folosirii cookie-urilor.
Termeni si conditii | Platforma pentru solutionarea online a litigiilor | Bilete
© copyright 2001 - 2022 BestMusic.ro