Jon Bon Jovi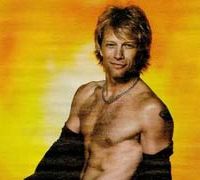 Gen muzical:
Rock
Poze Jon Bon Jovi



vezi toate pozele
Biografie Jon Bon Jovi
A fost ales de revista People (USA) intre primii 50 cei mai frumosi oameni din lume in 1996, iar in noiembrie 2000 aceeasi revista l-a desemnat cel mai sexy star rock. A fost audiat pentru rolul lui Ashe din The Crow: City of Angels (1996), dar a pierdut in favoarea actorului francez Vincent Perez. Are patru copii cu Dorothea Hurley: Rose (b. 1993), Jesse James Louis (b. 1995), Jacob Hurley (b. 2002) si Romeo Jon (b. 2004). Cantecul `August 7` de pe albumul sau solo `Destination...
toata biografia Jon Bon Jovi
Muzica Jon Bon Jovi
Acest site foloseste cookies.
Prin navigarea pe acest site, va exprimati acordul asupra folosirii cookie-urilor.
Termeni si conditii | Platforma pentru solutionarea online a litigiilor | Bilete
Bilete Concert Depeche Mode la Bucuresti Bilete Concert Guns N' Roses la Bucuresti pe Arena Nationala © copyright 2001 - 2022 BestMusic.ro