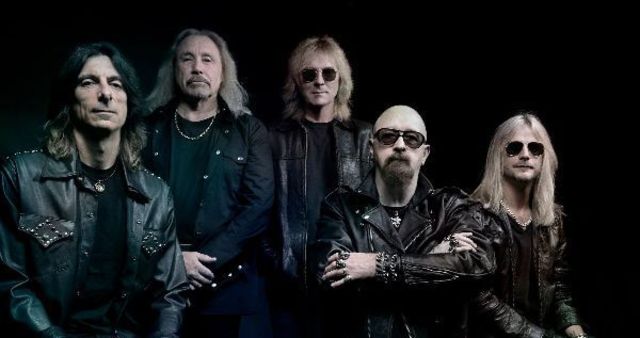 Colegii nostri de la Metalhead au stat putin de vorba cu legendarul Rob Halford, inainte de unuia dintre cele mai asteptate concerte ale acestui an.
"Metalhead: Hello again from Romania! How do you feel coming back to the land of Dracula?
Rob: Judas Priest are excited to see our wonderful fans once more to re-unite in metal.
Metalhead: How were the last concerts that you held in our country? Is there anything particular that pops up your mind?
Rob: Every show in Romania left us with great power and energy given back to us from everyone - the people of Romania are welcoming and kind.
Metalhead: How is the tour going so far? How is the feedback on the new album from the audience? Some say its your best work in the last 20 years!
Rob: The world wide "Firepower" tour isi going great and the feedback on the new album has blown us away and we are grateful to all involved in the success!
Metalhead: "Firepower" is simply blowing your mind. It's a masterpiece. Where did you draw your inspiration from?
Rob: We focused on the tradition and classic elements that are at the heart of the long life of Judas Priest.
Metalhead: Judas Priest is a living legend. Hundreds of bands were and still are influenced by your music and style. But when it all started, which were the artist that influenced your music?
Rob: All of us have different influences but it's fair to say that musicians like Hendrix, Clapton, The Stones & The Beatles to name a few.
Metalhead: Talking about nowadays bands that are trying to make a name for themselves, are there any, let's say, newcomers that draw your attention and that are truly worth looking into?
Rob: It's great to see metal is so strong around the world with so many bands. Agent Orange, Ghost, Power Trip are making exciting music.
Metalhead: What piece of advice would you give to a newly formed band?
Rob: Work hard to invent your own style and sound - work hard to play your istruments the you can - don't folloow lead!
Metalhead: Apart from Firepower, which other albums that were launched this year would you recommend us for a spin?
Rob: Saxon, Thunderbolt, Ghost, Prequelle, A perfect Circle, Eat The Elephant.
Metalhead: What's your opinion on nowadays music industry? What are the main differences between how it was when you started and the way it is at the moment?
Rob: Most if it is still the same in the way the industry continues to search and develop new talent - the main change is the internet and social media which was not there when we began.
Metalhead: The last words are yours.
Rob: Thank you metal maniacs for your unwavering support of Judas Priest and for keeping the metal faith!
Noi ne vedem cu Judas Priest pe 22 iulie la Romexpo!
Biletele se gasesc pe www.iabilet.ro si in reteaua iabilet.ro/retea : Magazinele Flanco, Metrou Unirii 1 langa casa de bilete Metrorex, Magazinul Muzica, Magazinele IQ BOX - Telekom, Cafe Deko, Club Vintage, Club Quantic, Hard Rock Cafe, Beraria H, Expirat Halele Carol (18-22h), Agentiile Perfect Tour, Magazinele Uman, in Statiile de Plata SelfPay si pe aplicatiile de IOS si Android iaBilet dar si in ziua concertului la intrare in limita locurilor disponibile, la urmatoarele preturi:
- presale 2: 310 lei cat A, 205 lei Cat B, 179 lei cat C, 155 lei Cat D - pana pe 22 iulie
-la intrare: 320 lei cat A, 210 lei Cat B, 189 lei Cat C, 159 lei Cat D
Un eveniment METALHEAD powered by ROCK FM
Mai multe stiri despre:
interviuri
concerte 2018
Publicat pe 12 Iulie 2018 , de Elena Paraschiv
Adauga un comentariu