McFly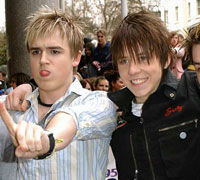 Gen muzical:
Pop/Rock
Poze McFly



vezi toate pozele
Biografie McFly
Asemenea trupei britanice de pop Busted, londonezii de la McFly au castigat rapid simpatia maselor cu charmul lor strengaresc si povestile despre adolescenta. Oricum, in timp ce Busted furau din publicul unor grupuri precum Blink 182 si Simple Plan, McFly s-au inspirat muzical din veteranii de la Beach Boys. Numiti dupa un personaj din serialul TV `Back to the Future`, Danny Jones (chitara/voce), Tom Fletcher (chitara/voce), Dougie Poynter (bass/voce) si Harry Judd (tobe) au lansat `Room...
toata biografia McFly
Muzica McFly
Acest site foloseste cookies.
Prin navigarea pe acest site, va exprimati acordul asupra folosirii cookie-urilor.
Termeni si conditii | Platforma pentru solutionarea online a litigiilor | Bilete
© copyright 2001 - 2022 BestMusic.ro