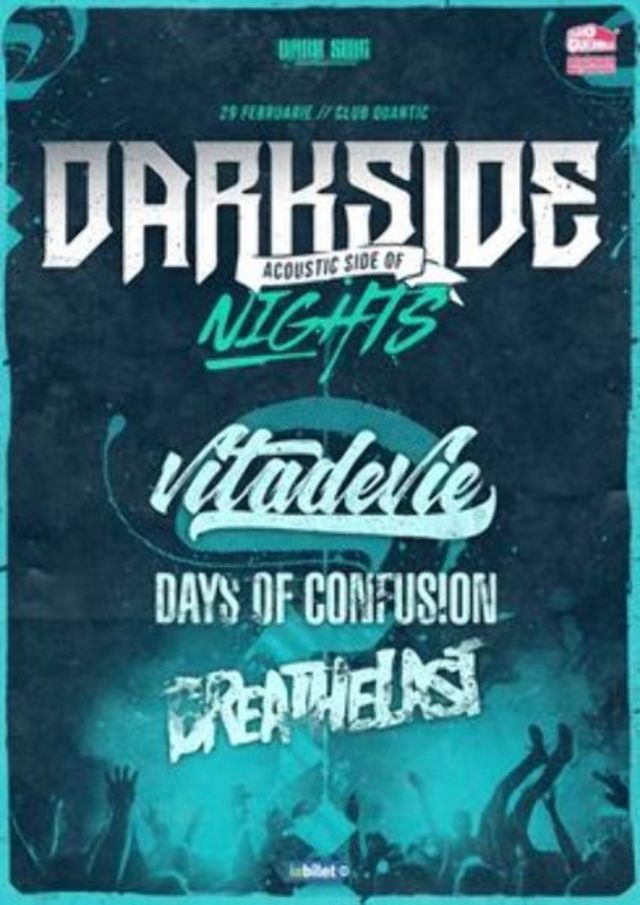 Platforma de evenimente DARK SIDE NIGHTS se intoarce! O noua poveste alternativa cu un format inedit ce va cuprinde seri tematice: Acustic (Acoustic Side Of) si Electric (Electric Side Of).
Sambata, 29 februarie, QUANTIC CLUB va fi gazda DARK SIDE NIGHTS – Acoustic Side Of. Primul eveniment este dedicat proiectelor acustice. VITA DE VIE, DAYS OF CONFUSION si BREATHELAST, trei trupe in recital, cu premiere de single-uri acustice in prima auditie si interpretare.
PROGRAM EVENIMENT
• Open doors: 19.00
• Acoustic Side Of BREATHELAST: 20.00 – 20.40
• Acoustic Side Of DAYS OF CONFUSION: 21.00 – 21.40
• Acoustic Side Of VITA DE VIE: 22.00
Bilete disponibile pe IaBilet.ro si in reteaua IaBilet: http://bit.ly/3bqGnLk
60 lei – presale, pe perioada 05.02 - 18.02
70 lei – in perioada 19.02 - 28.02
80 lei - pe 29 februarie, online si la eveniment
Un concept DARK SIDE ENTERTAINMENT.
Event FB: http://bit.ly/2ScFO08
Biletele se gasesc in format electronic pe www.iabilet.ro si in magazinele Flanco, Carturesti, Metrou Unirii 1, Muzica, IQ BOX si pe terminalele Selfpay. Online, puteti plati cu cardul, Paypal,carduri de tichete culturale Sodexo, pe factura la Vodafone sau Orange sau ramburs prin Fan Courier oriunde in tara.
Publicat pe 14 Februarie 2020 , de BestMusic.ro
Adauga un comentariu