The Amsterdams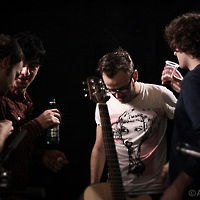 Gen muzical:
Indie
Tara:
Bucuresti, Romania
Poze The Amsterdams
vezi toate pozele
Biografie The Amsterdams
Trupa the Amsterdams s-a infiintat in 2006, cand doi dintre membrii actuali, Andrei Hategan (voce, clape) si Andrei Ungureanu (chitara) s-au intalnit la Bucuresti. Muzica trupei este caracterizata ca fiind muzica "indie", pop-rock alternative. Versurile sunt in limba engleza. Proiectul si-a schimbat componenta de-a lungul timpul evoluand in formula actuala, completata de Augustin Nicolae (bas) si Ovidiu Bejan (chitara, voce). Trupa a renuntat in 2011 la formula...
toata biografia The Amsterdams
Muzica The Amsterdams
Acest site foloseste cookies.
Prin navigarea pe acest site, va exprimati acordul asupra folosirii cookie-urilor.
Termeni si conditii | Platforma pentru solutionarea online a litigiilor | Bilete
Bilete Concert Depeche Mode la Bucuresti Bilete Concert Guns N' Roses la Bucuresti pe Arena Nationala © copyright 2001 - 2022 BestMusic.ro