The Pretty Reckless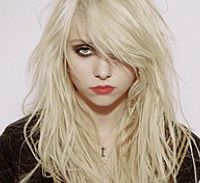 Gen muzical:
Pop/Rock
Tara:
USA
Membri:
Taylor Momsen
Biografie The Pretty Reckless
The Pretty Reckless este o trupa americana de rock alternativ originara din New York. Trupa este formata din Taylor Momsen (voce, chitara), Ben Phillips (chitara), Mark Damon (bass) si Jamie Perkins (tobe). Albumul lor de debut, Light Me Up, a fost lansat pe 30 august 2010 in Marea Britanie iar primul lor single "Make Me Wanna Die" a fost lansat pe 13 mai 2010.
toata biografia The Pretty Reckless
Muzica The Pretty Reckless
Acest site foloseste cookies.
Prin navigarea pe acest site, va exprimati acordul asupra folosirii cookie-urilor.
Termeni si conditii | Platforma pentru solutionarea online a litigiilor | Bilete
Bilete Concert Depeche Mode la Bucuresti Bilete Concert Guns N' Roses la Bucuresti pe Arena Nationala © copyright 2001 - 2022 BestMusic.ro