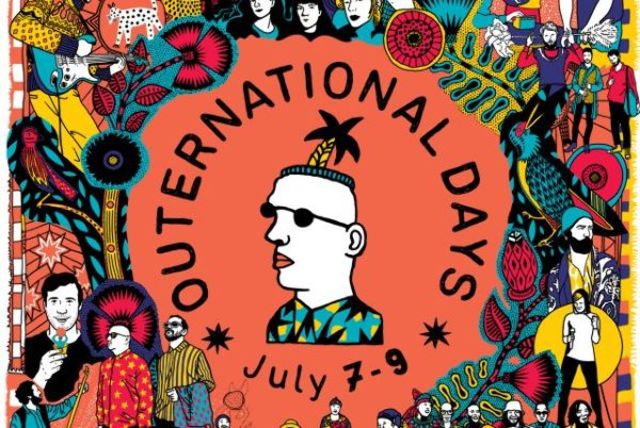 Weekendul acesta, intre 7 si 9 iulie, are loc la gradina Uranus (strada Uranus 144) si The Ark Bucuresti (strada Uranus 150) a doua editie a festivalului multicultural Outernational Days.
Outernational Days 2 va aduce pe scena culturala a Bucurestiului o suita de ansamble, trupe si muzicieni din intreaga lume - Kenya, Niger, Turcia, Senegal, Liban, dar si Europa (Germania, Austria, Elvetia si Romania). Pe langa concerte, festivalul va prezenta o serie de DJ seturi tematice, discutii, instalatii, ateliere, dezbateri, filme documentare si prezentari centrate in jurul conceptului Outernational.
PROGRAM
VINERI, 7 iulie 2017
Gradina Uranus:
19.00: Massicot (CH)
20.00: Circuit Diagram feat. Derya Yildirim (DE / TR)
21.00: Les Filles de Illighadad (Niger)
22.00: IMPEX presents Shamanelism (RO)
The ARK Bucuresti: Red Bull Music Academy x Outernational #1
23.00: Seltene Erden (Caykh & Escle) (DE)
00.30: Doug Shipton (UK)
01.30: BABAU (IT)
02.30: iNSANLAR (TR)
04.00: Traxx (US)
Sambata, 8 iulie 2017
Gradina Uranus
16.00: Panel discussion: 'Cultural Appropriation'
Speakers: Raed Yassin, Rose Satiko Gitirana Hikiji, Jan Rohlf, Derya Yildirim, Valeriu Nicolae. Hosted by: John Doran.
17.30: Panel discussion: 'Manele in Romania – from cultural paradox to social meaning'
Speakers: Margaret Beissinger, Adi Schiop, Andrei Dinescu, Dan Bursuc. Hosted by Cristian Neagoe.
19.00: Social Insects (Koch Hans & Gaudenz Badrutt) (CH)
20.00: Gorkem Sen pres. Yaybahar (TR)
21.00: Praed (LB / CH)
22.00: Mircea Florian presents FloriMan
The ARK Bucuresti: Red Bull Music Academy x Outernational #2
23.00: Knr (RS)
00.00: 'Everything Visible Is Empty' (presented by CTM Festival) – by Rabih Beaini (LB) [with Raed Yassin (LB), Mazen Kerbaj (LB), Diana Miron RO),Bogdana Dima (RO)]
01.00: Toresch (DE)
02.00: Vladimir Ivkovic (YU/DE)
04.00: Khidja (RO)
Duminica, 9 iulie:
Uranus Garden
16.00: Lecture: Mircea Florian: the ever fascinating world of the Jew's harp
16.30: Artist talk: Octavian Nemescu (hosted by Andrei Tanasescu)
17.15: Sambata Sonora x Outernational: Mazen Kerbaj solo / PFA Orchestra
19.00: Stefan Fraunberger (AT)
20.00: Ogoya Nengo & The Dodo Women's Group (Kenya)
21.00: Mark Ernestus' Ndagga Rhythm Force (Senegal)
22.00: Florin Salam (live with band) (RO)
Outernational Days 2 este co-finantat de Administratia Fondului Cultural National, sesiunea de proiecte cultural I/2017 – Artele Spectacolului – Muzica.
Outernational Days 2 este sustinut de Swiss Arts Council Pro Helvetia si Red Bull Music Academy.
Biletele pentru acest eveniment sunt disponibile online pe www.iabilet.ro si in reteaua iaBilet.ro: Magazinele Flanco, Metrou Unirii 1 langa casa de bilete Metrorex, Magazinul Muzica, Magazinele IQ BOX - Telekom, Cafe Deko, Club Vintage, Club Quantic, Hard Rock Cafe, Agentiile Perfect Tour, Magazinele Uman si pe terminalele self-service ZebraPay din toata tara.
Website: the-attic.net/outernational
Facebook page: www.facebook.com/outernationaldays
Instagram: www.instagram.com/outernationaldays
Publicat pe 04 Iulie 2017 , de BestMusic.ro
Adauga un comentariu